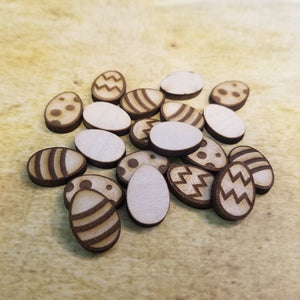 This bundle of small wooden Easter egg confetti blanks are handmade and are approximately .75 inch in height by half an inch wide.  Some designs may vary in size however. They are made from approximately 1/8" maple ply and are laser cut and raw wood so slight imperfections might occur. Bundles include a variety of designs based on a theme and may not include an equal amount of each design. See images for current inclusion of this specific bundle. 
These wood blanks are perfect to be used for making wood stud earrings, for scattering wood table confetti at parties and events, for sinking into resin / epoxy art pieces such as the dominoes molds or for adding to other craft projects.
Our wood confetti blanks are sold by eighth, quarter, half and full sheets which range from approximately 50 to 400 pieces. Sample sets are also available for $5 and contain 10 pieces of the blank being purchased. No hardware is included, only the wood blanks are included. Our wood confetti blanks may or may not have designs on them. Some are true shaped wood blanks. Refer to pictures and description.
* Wood confetti should not be used by children without adult supervision as they are small and can be a choking hazard.