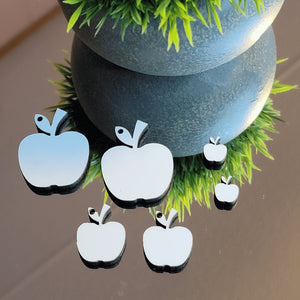 Cute Apple earrings are all the rage, and now you can create the perfect teacher earrings with these beautiful, glossy white sublimation earring blanks. No need for fancy tools or expensive materials and equipment to get you the perfect blanks for your jewelry making endeavor. Simply remove the plastic layer off the blanks, press your sublimation design, and ta da! Just add hardware and you now have gorgeous unique earrings for you and your customers!

Our blanks are sold in sets. For example, a SET OF 5 means you get 5 sets of earring blanks. That's 10 pieces. Sets are all of ONE SIZE. There's no mix and match sizes within a single package purchase. Size, as noted here, is normally based on the largest dimension for those shapes that are not the same for height and width. Please ask if you need specific dimensions.

AVAILABLE SIZES (APPROXIMATE):

STUDS: .5"H (no holes)
-->> Stud sized blanks do not have holes. These are meant for making stud earrings so stud earring hardware is required to make these
-->> The apple stud earring stems are delicate due to size. Handle with care, and it's recommended to peel the plastic film from the bottom of the apple.  Extras included.
SMALL: 1.0
MEDIUM: 1.5"
LARGE: 2.0"
XLARGE: 2.5"

*** Jewelry Hardware is not included ***

Our sublimation blanks are made of unisub MDF hardboard and laser cut. The blanks are single sided MDF (only can be sublimated on 1 side). They are approximately 1/8" thick and glossy white on the front with brown on the back. These are absolutely perfect for creating beautiful sublimated earrings! Vinyl can also be used.

>> Only the MDF sublimation blanks are included in purchase. Jewelry, hardware, and designs are not included <<

SUBLIMATION INSTRUCTIONS:

--> Remove plastic film on white side of blank
--> If necessary, clean any smokey residue (from laser cutting) with soft cloth and isopropyl alcohol
--> Place design face down (design should be mirrored when printing) on white side of blank. Tape down with heat tape if necessary. Place butcher paper under and above the blanks when pressing.
--> Press at 385 to 400 degrees, medium pressure for approximately 60 seconds (heat presses can vary)